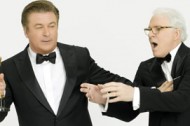 1) Starting the show with the 10 lead acting nominees having to take the stage and smile for the cameras. Doesn't the rest of the evening torture them enough?
2) The clips for the 10, count 'em 10, Best Picture nominees. Add them up and they were longer than some of the films themselves! Besides, way back in 1939, the 10 nominees were instant classics like Gone With The Wind, Stagecoach, and The Wizard of Oz. But this year? The Blind Side and District 9! Let's go back to just five. No, make it three!
3) The way the cameras kept zooming in on the front runners right after they lost. When THE HURT LOCKER won Best Original Screenplay, they closed in on a shaken Quentin Tarantino. After PRECIOUS bagged Best Adapted Screenplay, they cut to a sweaty Jason Reitman. Even when AVATAR lost some sound award, they cut to Zoe Saldana and Sam Worthington. This practice totally appealed to the sadist in me, but for the sake of others with some heart, let's only watch people squirm before they lose from now on.