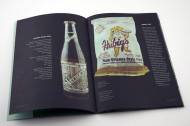 Last week I spotlighted the new zine Put A Egg On It. This week I caught up with one of the creators, Sarah Keough, to talk about the project.
Why did you start Put A Egg On It?
We wanted to make a magazine together and figured there were already plenty featuring photographs of scantily clad gentlemen so we chose our other favorite topic: food. We were also interested in having fun and creating something with the same kind of feeling as the dinner parties we have with our friends.