san diego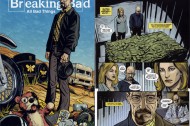 Walter White fans: Here's another chance to win a copy of the the coveted, never-for-sale collector's item.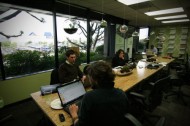 Early last month, I got the opportunity to spend some time at Ecohub, a green-focused coworking space developed by old friend Yeves Perez and partners. Opened last Spring, Ecohub is thriving, and has served as home to 27 green businesses and "in-kind" partners since its launch.
It turns out that the concept itself is taking wings in SoCal: SignOn San Diego reported yesterday that many building owners are looking at coworking spaces as a way to make use of (and take rent from) otherwise unoccupied offices and suites. So far, six companies now offer shared space for budding entrepreneurs… and while not all green focused, you could argue that the coworking concept itself is quite green in the sense that it allows these tenants to share resources — from utilities to office machines to the existing buildings themselves — that they might otherwise procure on their own.
San Diego Museum of Contemporary Art's new group exhibit "Viva la Revolucion: A Dialogue With The Urban Landscape" features 20 artists from 8 countries recognized for their street art and "work [that] addresses urban issues." As part of this show, Space Invader is debuting his film "The Space Invader Walk" (view trailer) which takes advantage…