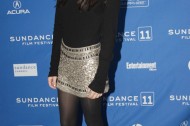 Actress Isabelle Fuhrman attends 'Salvation Boulevard' Preimiere on January 24, 2011 in Park City, Utah. (Photo by Colby D Crossland/Getty Images)
For a number of young ladies, this year's Sundance was a kind of coming-out party, during which they were declared the latest "It" girls to prance through Park City. Among them: Elizabeth "Lizzie" Olsen, Brit Marling, and now, as the festival begins to wind down, Isabelle Fuhrman, the star of SALVATION BOULEVARD, George Ratliff's adaptation of Larry Beinhart's comic novel about a mega-church community. The film, which was just picked up for distribution by IFC Films and Sony Pictures, also stars Pierce Brosnan and Marisa Tomei.
Just 12-years-old, Fuhrman was until now best-known as the haunting face staring down from posters for the 2009 horror film ORPHAN. (You remember: the pale white face; the ribboned pig tails; the death stare.)
Over the past few days in Utah, she's been understandably a much more happy camper. Sundance Channel caught up with Fuhrman getting ready for the SALVATION BOULEVARD premiere, and she's been keeping fans up to date on what it's like to be a tween star at Sundance via Facebook and Twitter.