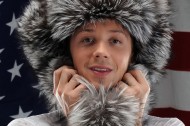 Johnny Weir poses for a portrait during the NBC/USOC Promotional Photo Shoot on May 12, 2009 at Smashbox Studios
With the 2010 Winter Olympics in Vancouver just a week away, SUNfiltered will bring you a "Weir Roundup" whenever possible that will not only feature the latest news on Johnny, but also interesting video clips. In this edition, we'll be showcasing Johnny's vocal talents and a recently made-available video of Johnny's routine to Jordin Sparks' live performance of "Battlefield." In the upcoming days, we'll be highlighting other notable exhibition routines, as well career-making performances like "The Swan."
– Johnny and acclaimed photographer and music video director Matthew Rolston come together in a promo shoot for BE GOOD JOHNNY WEIR. Check out the final product and behind-the-scenes footage on Full Frontal Fashion.
– "Skater Johnny Weir's New Resolve" by the Philadelphia Inquirer.
– Ryan McGinely showcases a photo portfolio entitled "The Highfliers" featuring Shaun White, Johnny Weir, Emily Cook, and more in the latest edition of NY Times Magazine. All the athletes featured are wearing custom Rodarte knitwear which can bee seen here.
Don't miss Johnny singing, after the jump.