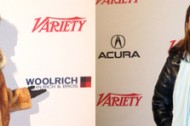 Paula Froelich and Celine Rattray, producer of THE ROMANTICS
Is it terribly wrong that I find Lyle Lovett insanely awesome and hot? So the other night I finally got to hang with my pal Celine Rattray, who produced THE ROMANTICS and another flick here. Fun Fact: Celine started her career at HBO and then started Plum Pictures with her pal Gault Niederhoffer (whose daddy Jimmy was in foreign exchange and blew up the Thai Baht in the 90's) and other friend Daniella – they kicked ass and now Celine is leaving to partner with Peter Fricking Guber. I mean – that's amazing. (Gault will focus on directing now and not sure what Daniella is doing. I mean – I don't even know her last name, so…). Celine always makes me feel like I need to revise my 5 year plan. (which currently consists of curing Karl Froelich the wonder dachshund of his grudge-pooping habit, nursing my liver back to life and trying to avoid turning into a complete stereotype).
So Celine and I decide to catch up, get a drink before hitting the Variety party at the St. Regis at Deer Valley.