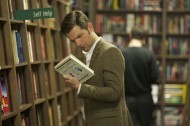 A.C.O.D. may sound like a mental disorder, but you'll only wish it was after seeing Stu Zicherman's film about an adult caught in the crossfire of his parents' divorce. The premieres keep rolling on day 7!
A.C.O.D. 6:30P Eccles Theatre
Carter is a well-adjusted Adult Child of Divorce. So he thinks. When he discovers he was part of a divorce study as a child, it wreaks havoc on his family and forces him to face his chaotic past. Adam Scott's increasingly befuddled everyman is flanked by vivacious comic performances from Catherine O'Hara and Amy Poehler as his stubborn mom and sassy stepmom, respectively.