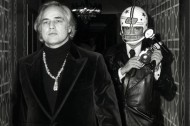 SMASH HIS CAMERA, directed by Leon Gast
One of two documentaries about paparazzi culture at the Sundance Film Festival this year — the other is Adrian Grenier's TEENAGE PAPARAZZO — Leon Gast's SMASH HIS CAMERA traces the colorful career of Ron Galella, "paparazzo superstar" (as he calls himself). Among the first and by far the most notorious of stalker photographers, Galella played a years-long cat-and-mouse game with Jackie Kennedy and earned a restraining order for his efforts. Once he got too close to Marlon Brando, who rewarded him with a fist in the face.
Now in his late 70s, Galella fondly revisits these old war stories in SMASH HIS CAMERA, which also follows the still-active photographer on a few excursions from suburban New Jersey to Manhattan high society. He worms his way up to Robert Redford at a charity event and hands him a copy of his new book (needless to say, this got plenty of laughs at Sundance). He barges onto the red carpet of the CHANGELING premiere to get a good look at Brangelina. Various experts — curators, photographers, lawyers, gossip writers — weigh in on the merits and ethics of Galella's work (there's widespread disagreement).