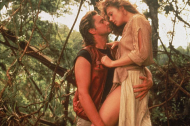 Michael Douglas and Kathleen Turner in ROMANCING THE STONE.
When I started asking around about what people's favorite romantic movies were there was a lot of overlapping, but not one person mentioned any – not a single one – from my personal top 10 list, so I felt obliged to share them here (in no particular order) and see if there were any takers.
1. WHEN HARRY MET SALLY (1989)
What's more lovable than Meg Ryan in her adorable late 80s/early 90s phase? The answer is Meg Ryan side by side in an unexpected romantic duo with Billy Crystal. Who can forget her orgasmic experience at Katz's Deli? This movie proves that sleeping with your friend doesn't necessarily mean the end of your relationship.
2. BREAKFAST AT TIFFANY'S (1961)
Holly Golightly may not have found love in the Truman Capote original, but in the hands of screenwriter George Axelrod (THE SEVEN YEAR ITCH, THE MANCHURIAN CANDIDATE, PARIS WHEN IT SIZZLES, to name a few) she not only finds love but looks fabulous doing it.