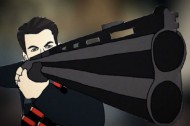 DreamStates: Sebastian Junger Animation by Cole Gerst
Sebastian Junger is busy on a book tour promoting his book WAR, now in paperback. The author and filmmaker took time from his busy schedule to chat with me about his Dreamstates episode, seen above.
How were you first approached to take part in DreamStates?
I was told about it by National Geographic. I thought it was a cool idea.
Did you collaborate at all with the illustrator? If so, in what ways?
No I did not. And I think he did a fantastic job! I absolutely loved what he created. It was such a cool experience watching my own dream portrayed visually. It was very cool.
Was there anything that he got 100% right, spot on?
Well I think the characterization of the expanding cartoon monsters was perfect. He really nailed it. It was really spot on.
You said this dream marked a time where you grew up. Have you had other dreams, like or unlike this one, that have repeated or have impacted you?
I mean every once in a while we all have dreams that are devastating. Nothing ever like that though. Nothing with a complete sense of doom and helplessness. It was really a classic midlife issue.
How old were you?
I was 46.