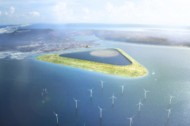 NASCAR, bicycles, and recycled guns… your green tech finds for the week.
It all started with the bicycle: Trade pub Mechanical Engineering sings praises to the bicycle… not only as an engineering breakthrough for its time, but also as a "platform" for other transportation developments.
NASCAR goes solar: Well, sort of… the Pocono Raceway in Pennsylvania now operates the tenth-largest solar farm in the US (and the biggest of any sports arena in the world).