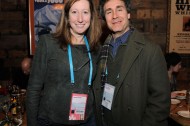 Sundance Institute Executive Director Keri Putnam (L) and Director Doug Liman attend the Skoll Closing Dinner at the High West Distillery during the 2011 Sundance Film Festival on January 27, 2011 in Park City, Utah. (Photo by Jemal Countess/Getty Images)
Filmmaker Doug Liman has tackled tough topics before: His recent film FAIR GAME, inspired by the experiences of covert CIA officer Valerie Plame, whose cover was blown by a White House press leak, looks at the devastating consequences of unchecked political power.
In RECKONING WITH TORTURE: MEMOS AND TESTIMONIES FROM THE 'WAR ON TERROR,' the special performance he teamed up with the American Civil Liberties Union and PEN American Center, as well as the Sundance Film Festival, to present at this year's festival, Liman again considers those consequences. In the hectic run-up to the event, he took a few minutes to answer SUNfiltered's questions via email, sharing his thoughts on torture, secrecy and taking a stand.