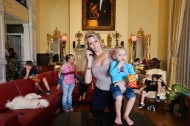 Kim Kardashian's gaudy fairytale nuptials lasted just 72 days.
Louis XIV, in all his decadence, ruled France for just over 72 years, making him the longest-reigning monarch in European history.
Somewhere in between lies Jackie Siegel, the wonderfully tacky, basketball-bosomed protagonist of Lauren Greenfield's rags-to-riches-to-rags documentary, QUEEN OF VERSAILLES, which made its world premiere the opening night of the Sundance Film Festival.