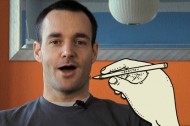 To celebrate the launch of DreamStates, last week I got on a call with Will Forte while he drove to Mt. Rushmore. We discussed puffins, SNL, and of course, his dreams. Part One is today. Part Two will post tomorrow.
Hi Will.
Hi! I apologize in advance as I am 7 miles from Mt. Rushmore. I'd pull off but I think the park is closing soon! So this is the best time to interview me. I am so energized about getting to Mt. Rushmore. It's taken me 40 years to get to this part of the country so I just had to get to see Mt. Rushmore.
I was just in Iceland last week and your DreamStates episode is all about puffins. So it's appropriate we're talking. I assume Iceland is where you came in contact with puffins?
Yes. Yes that is where. I went to a festival there and it was a weekend long event that was amazing. During this festival whole families stay up the entire night and there were puffins all over the island I was on. So we saw these puffins everywhere and then at night all around the tents people would be snacking on puffins! And I was a little sad as they seem like these cute birds. But then I heard they had a nasty side.
So you didn't come in contact with their nasty side? It was all second hand information?
Yes, it was all second hand.
Have you seen the YouTube video of Gordon Ramsey catching puffins and snapping their necks?
No, puffins!?
Yes, if you Google "eating puffins" you'll find this video of Ramsey catching puffins in nets and then snapping their necks!
No wonder they have this bad attitude. They've gotta have this attitude to survive.