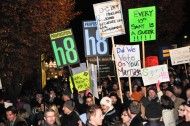 In his review of 8: THE MORMON PROPOSITION, a documentary about the Mormon Church's campaign to pass Prop. 8, the ballot initiative outlawing gay marriage in California, Variety's Peter Debruge writes that the film is "mostly preaching to the converted."
"Although controversy could spur interest, the pic hasn't been as incendiary as one might expect playing just north of LDS HQ at the Sundance Film Festival," Debruge asserts.
He may have spoken too soon.