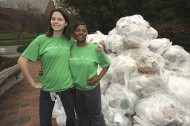 Got a student at home trying to make the big choice of a college to attend? Are schools' commitments to sustainability a part of his/her criteria for choosing one?
If so, your budding collegian isn't alone: according to the Princeton Review's 2009 College Hopes & Worries Survey (which solicited information from college applicants and their parents), "66 percent of respondents said they would value having information about a college's commitment to the environment. Moreover, of that cohort, 24 percent said such information would 'very much' impact their decision to apply to or attend the school."
But where do you find this information?