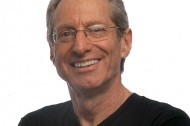 Robbie Conal was born in New York City in 1944. He studied art at San Francisco State University and obtained his MFA at Stanford University before moving to Los Angeles in 1984. It was during this time in the 1980s that he combined his art with his social concerns: politics, power and the abuses of both.
Realizing the limited opportunities for art institutions to showcase his work, he transferred his paintings to posters and showcased them on the streets of Los Angeles with the help of his volunteer "guerrilla army."
His books include "Art Attack: The Midnight Politics of A Guerrilla Artist" and "Artburn."
Sundance Channel caught up with Robbie at his studio in California to discuss his background, influences, work, and future projects.