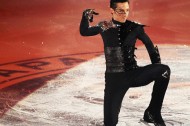 Johnny Weir goes GaGa in a brilliant asymmetrical costume using broken glass.
After winning third place at U.S. Nationals for men's figure skating, Johnny returned to Spokane, WA this weekend to performance an exhibition skate to Lady GaGa's "Pokerface." This isn't the first time he's gone GaGa; he started skating this exhibition routine in early 2009 and it became an instant crowd pleaser!
View his entire routine after the jump.