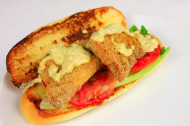 More masterful cooking from our guest blogger Justin, who, along with his wife, Lori, writes the food blog The Gastronomic Duo, a blog dedicated to couples cooking together in the kitchen and enjoying food with one another in their home.
One might not think we Minnesotans know much about the po' boy and I'm gonna have to tell you, you're wrong. If the po' boy sandwich is about the fish, Minnesota has just as much knowledge as all of those Southerners, probably more considering the 20,000 lakes our state boasts.
It's a bold statement. I am aware. It's bold because unfortunately the po' boy is not about the fish. For Lance it wasn't about the bike and for the po' boy sammy it's not about the fish. That said, the same rules always apply when purchasing fish – source the highest quality and the freshest available.