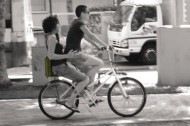 Can good design save the world? Well, maybe the Great Lakes, anyway. That, plus community-based solar, clothing recycling, and more: your green tech finds for the week.
The DIY bike seat: Ever wanted a second seat on your bicycle, without investing in a tandem? Or just carrying space without a trailer? Israeli designer Yael Livneh has you covered with his concept made from a used plastic milk crate. He's entered the concept in Designboom's Seoul Cycle Design competition. (via Unconsumption and @dothegreenthing)
Occupy the sun: We generally think of solar power as something that individual home and building owners do, but Francesca Rheannon at CSRWire takes a look at community-based efforts to adopt solar technology.