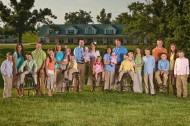 That's an easy one: You don't!
Your chances of getting a show on the air are as slim as those of finding Willie Wonka's golden ticket in your mail or chomping down on the Hope Diamond in your lo mein.
Oh sure, once in a blue moon an unsolicited pitch can lead to something—but when was the last time you saw a blue moon except for the SMURF movie? I've even done pitches with big people—household names, I swear–who actually had development deals with networks, and they went nowhere faster than a BUCKY LARSON sequel!