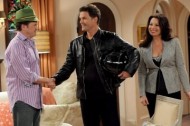 Happily Divorced couldn't ask for a better lead-in. It premieres on TV Land on June 15 directly after Hot in Cleveland, the biggest phenomenon to hit the upper part of the cable box since Half-Ton Teen.
It also has a pretty hot premise: Fran Drescher plays a florist whose 18-year marriage ends when her husband (John Michael Higgins) announces, "Yep, I'm gay"—and for various reasons, they continue living together anyway!
What's more, the show is loosely based on Drescher's own experience. In fact, Drescher co-writes it with Peter Marc Jacobson, who happens to be her real-life gay ex-husband.
There are just two problems with the show, based on my viewing of the pilot: (A) Betty White isn't in it. (B) It's not that funny.