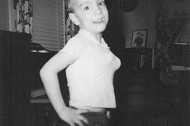 A submission on Born This Way
I had the chance to ask the man behind my new favorite blog, Born This Way, some questions.
Who the heck are you?
My name is Paul V. (aka DJ Paul V.), from Los Angeles. I'm a longtime club and radio DJ, music reviews writer, and general music biz "Promosexual." You could also say I'm a bit of a Facebook activist and outspoken mouthpiece for gay rights and equality. Also, "Born This Way" is my first ever official blog.