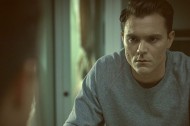 Clayne Crawford, who plays Ted Talbot Jr. on RECTIFY, discusses his theory about how Ted and Tawney met, his directorial aspirations and life on his 50-acre farm.
Q: Some fans see Teddy as the bad guy on RECTIFY. How do you seem him?
A: I see Teddy as a guy who never really had a true family unit… knowing that he came into the Talbot family around 10 or 11 and was never truly accepted by his sister and had that looming cloud hanging over the family's head with Daniel being incarcerated. And then my little brother Jared was born not too far after, so I think Teddy is a guy craving attention and love as a result of that experience.
Q: Teddy is very devoted to Tawney. What has the writer told you about their back story and how they met?