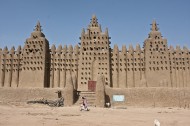 Sell your e-waste, build your own e-bike, and get your Fritos from electric vehicles… your green tech finds for the week.
Green tech patent information goes online: The World Intellectual Property Organization (WIPO) launched its IPC Green Inventory today, which consolidates information on patents and patent applications involving "environmentally sound technology" into one database. (via eGov Monitor)
Middle Eastern mud buildings: Arwa Aburawa at Green Prophet takes note of some of the phenomenal (and sustainable) mud buildings in the Middle East (like the one above).