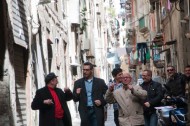 Filmmaker John Turturro on the set of PASSIONE.
Photo credit: Iole Capasso / Squeezed Heart Productions.
John Turturro's latest film PASSIONE opens on Wednesday June 22nd at the Film Forum in New York. The film, his fourth as a director (MAC, ILLUMINATA, ROMANCE AND CIGARETTES), is a "musical adventure" through the beautiful, mysterious, and often misunderstood city of Naples. With 23 songs performed by Napoli's contemporary musical artists, Turturro and cinematographer Marco Pontevecchio create a visual representation of the history, emotion, and perseverance captured in the city's music. Sundance Channel met with Turturro to discuss the film, his musical influences, and his love for the city of Naples.
What is PASSIONE and how did you become involved with the film?
It's a musical adventure through Napoli. And you see various aspects of Napoli through songs that we chose, through the thousands of songs to choose from, and there are many great artists and songs that are not represented. So we were trying to find something that would have a balance like when you write a symphony. You have something legato, something very strong, something that builds. We wanted to have a balance of the old and the new.
(Producers) Carlo Macchitella and Alessandra Acciai invited me to make a BUENA VISTA SOCIAL CLUB from Napoli. I realized it's not a Communist country, it's not about a band reuniting, and also because of the longevity of (Naples') music history it would be interesting to maybe explore various aspects of it because it's such a complex city. So we didn't know if it would be a documentary…they wanted different singers…they wanted some old footage. They had made some documentaries for (Italian television company) RAI, five hour versions, and Federico Vacalebre is a musicologist and co-author. He's a journalist, he introduced me to a lot of music and different arrangements of songs I was interested in, and I thought it would be great to have living artists connected to some of the artists of the past.