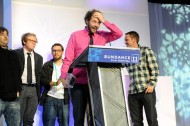 Director Drake Doremus accepts the Grand Jury Prize: U. S. Dramatic for 'Like Crazy' at the 2011 Sundance Film Festival Awards Night Ceremony at Basin Recreation Field House on January 29, 2011 in Park City, Utah. (Photo by Fred Hayes/Getty Images)
And the winner is… Drake Doremus' LIKE CRAZY, which was just awarded the Grand Jury Prize at this year's awards ceremony.
The film arrived at Sundance with tremendous buzz—Los Angeles Times critic Kenneth Turan was particularly laudatory—and went on to be rapturously received. It was quickly picked up for distribution by Paramount Pictures and Indian Paintbrush for $4 million, a sale that kicked off a week-long flurry of deals and acquisitions, the likes of which haven't been seen in Park City since the 1990's.
Along the way, there were other films that captured audiences' hearts—MARTHA MARCY MAY MARLENE; HIGHER GROUND; THE GUARD—but LIKE CRAZY, which stars up-and-comers Anton Yelchin and Felicity Jones as college students in Los Angeles whose romance is interrupted by the INS (Jones plays a Brit who overstays her visa), was a persistent favorite throughout the week, thus its win is not much of a surprise.