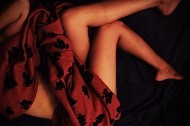 For the past few weeks we've been talking about sex that hurts — and not in a heartache kind of way. Two weeks ago we published an excerpt from When Sex Hurts: A Woman's Guide to Banishing Sexual Pain. Then last week we published a basic overview of the causes of painful sex. So many women still don't admit to having this problem — they may write in to an anonymous advice column like ours, but they won't necessarily admit it to their gynecologist. Today we present a Q&A with Dr. Caroline Pukall and Dr. Andrew Goldstein, coauthors of When Sex Hurts, addressing some of the most common questions they hear about painful sex.
What is the most common cause of sexual pain?
There are many causes of sexual pain, the most common being vestibulodynia, the most common type of vulvodynia, which is chronic vulvar pain which has no known cause. Vestibulodynia is characterized by a severe burning pain at the entrance of the vagina during activities that involve vaginal penetration; the most common complaint of women with this condition is dyspareunia — pain during sexual intercourse. Women with vestibulodynia may also have pain during nonsexual activities, such as gynecological examinations.