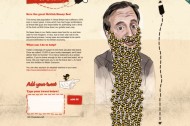 A bee beard for David Cameron, subway energy harvesting, and using search technology to identify endangered species… this week's green tech finds.
The Wolverine solar cell: Researchers at MIT actually looked to plants, not the X-Men, when creating a solar cell that "heals" its own UV damage.
Tweet for the honey bees: British marketing firm LBi has created a "twittition" (Twitter petition) to support honey bee populations in the UK. Each tweet added to the petition adds a bee to a "bee beard" on a likeness of Prime Minister David Cameron (shown above).