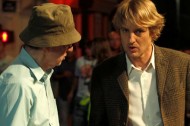 MIDNIGHT IN PARIS, Woody Allen's latest film starring Owen Wilson, Rachel McAdams, and Marion Cotillard, opened in the U.S. on Friday May 20th. The film, a romantic comedy set in Paris, is Allen's forty-first feature film and his sixth film shot in Europe since 2005.
In MIDNIGHT IN PARIS, Gil (played by Owen Wilson) is on vacation in Paris with his fiancée Inez (Rachel McAdams) and her parents. From the outset, their polar opposite views on Paris are apparent: Gil, a successful Hollywood screenwriter, has a romantic view of the city while Inez, more comfortable with her California lifestyle, sees it as just another place in the world. After dinner with Inez's overbearing friends Paul (Michael Sheen) and Carol (Nina Arianda), Gil calls it a night as they hit a club. Lost and a little drunk, Gil finds himself on a quiet street as the bells strike midnight. When a car pulls up filled with English speaking revelers, Gil is pulled into their party and circumstances that he never could have imagined.
This is Allen's second film in Paris, the first "Everyone Says I Love You," included Paris in only a portion of the film, but MIDNIGHT IN PARIS is Allen's cinematic love note to the city.
From the film's press kit, "Of course I'm partial to New York because I was born there and grew up there," he says, "but if I didn't live in New York, Paris is the place I would live." This feeling echoes the sentiments of the film's main character, Gil, who looks back with regret on an opportunity he had to move to Paris twenty years earlier but didn't take. Allen himself had a similar opportunity during the filming of WHAT'S NEW PUSSYCAT in the 60's. "It was an adventure that was too bold for me at the time. In retrospect I could have stayed, or at the very minimum taken an apartment and divided my time – but I didn't and I regret that."
Allen sat down with reporters to discuss MIDNIGHT IN PARIS at a press conference for the film on May 17th in New York.