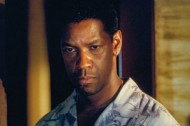 Have you ever noticed that Denzel Washington is at his best when he's behaving his worst?
The actor's first Oscar win arrived in 1989, when he played the bitter, furious ex-slave Trip in Ed Zwick's Civil War drama GLORY. Washington further embraced his dark side, and delivered his second Oscar-winning performance, by playing a corrupt L.A. street detective in Antoine Fuqua's TRAINING DAY. And it's likely he'll earn a sixth Academy Award nomination early next year for his gripping portrayal of an alcoholic airline pilot in Robert Zemeckis' FLIGHT, in theaters now.
It wasn't until this pattern presented itself that we doubled back and realized just how often Washington willingly accepts the role of a hero mired in morality's grey areas. Unlike Tom Cruise or Tom Hanks — bankable A-listers who desperately want to be loved by audiences worldwide — Washington repeatedly challenges his followers by asking them to accept a flawed protagonist who stands at an emotionally complicated crossroads and often makes an unpopular decision.