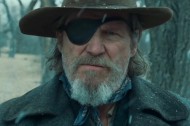 Looking to Hollywood to brighten your Christmas season with laughs and good cheer? You'd have a better time renting old Hammer horror flicks.
The last month of the year has become less of a venue to trot out cinematic smiles and eggnog than to appeal to the dark side of the audience while also groveling for awards and recognition.
It's a bleak time in the movie cycle, and I have no problem with that—in fact, I detest cheap sentiment—but I sometimes find myself dreading the December depressathons, even if they're admittedly better for you than feelgood rom-coms and cutesy cartoons.