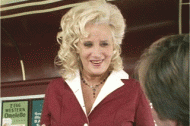 Irrepressible, New York born Sally Kirkland has amassed a startling career, leaping from theater to Hollywood films to indies, while always going to extremes with the intent of "not doing things halfway." Kirkland's latest venture has her filming Sharon Greytak's Archaeology of a Woman, in which she's going for broke as a mystery lady shrouded in crime, lust, and madness—a role that could be her most intriguing since 1987's Anna got her an Oscar nomination as a Czech actress who mentors an attractive immigrant.
Kirkland called me from the Archaeology set for an expectedly intense chat:
Me: Hi, Sally! This movie sounds fascinating.
Kirkland: It's a really juicy role for me—a modern day Lady Macbeth with a little Trip to Bountiful. I definitely have a Who's Afraid of Virginia Woolf? type anger in it. My character, Margaret, was involved in a crime years ago and she's angry at her daughter (played by Tony winner Victoria Clark). Margaret is ferocious. I have some amazing emotional scenes. I'm tearing the scenery apart! And there's a three-page single-spaced monologue. I'm releasing all kind of demons. I have a nude scene too.