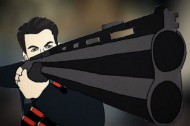 DreamStates: Sebastian Junger Animation by Cole Gerst
Sebastian Junger is an American author, journalist, and documentarian, most famous for the best-selling book The Perfect Storm, his award-winning chronicle of the war in Afghanistan in the 2010 movie RESTREPO, and his 2010 book War. Restrepo won the Grand Jury Prize for best documentary at the 2011 Sundance Film Festival and was nominated for the 2011 Academy Award for Best Documentary. Sebastian co-directed RESTREPO with photo journalist Tim Hetherington, who was killed while on assignment in Misrata, Libya in April 2010.
Sebastian's dream story for our new web series DreamStates was quite intense. In his dream, he recalls how, while embedded with troops in Afghanistan, his "dream state and reality would often get blended together". In this very profound dream – Sebastian and his "older brother" are being attacked by incredibly evil and violent "bubble monsters" that just keep coming and won't stop – with no end in sight. Very scary stuff.
Sundance Channel teamed up with creative agency, Option-G, for the new collaborative animated video series, DreamStates. The series includes interviews with musicians Questlove (The Roots) and Mike Gordon (Phish), actor/comedian Will Forte (Saturday Night Live), actress Malin Akerman (WATCHMEN, COUPLES RETREAT) and writer/documentarian Sebastian Junger (THE PERFECT STORM/RESTREPO).