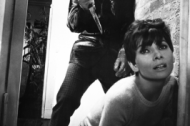 There are a lot of top ten lists for "scariest movie of all time," but from box office hits to oddball cult classics, there are some movies that turn up again and again. You'll notice a few favorites are missing, namely HALLOWEEN (1978), which has great 70s kitsch value and hands down more naked boobs than any movie on this list, but as a movie, it's really not all the frightening, right? And no, I didn't forget THE EXORCIST (1973) either, but buckets of green puke are more gross than scary. You'll notice, too, that there aren't a lot of new scary movies, and that's not because I don't like them, but I think we should let them stand the test of time a bit before we start putting them on all-time lists.
10. WAIT UNTIL DARK (1967)
This oft-forgotten gem stars Audrey Hepburn as a blind woman terrorized by Alan Arkin and his gang of thugs who think she has a doll full of heroin. Bet you never thought a refrigerator light would save your life.
9. NOSFERATU (1922)
Greatest vampire movie of all time? Michael Myers stole all Nosferatu's best moves in HALLOWEEN (the white face, the lurking) but the original is still the bone-chilling best.