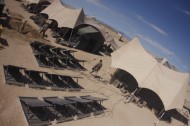 The greenest cell phone companies, solar Marines, and DIY LED Facebook notification… your green tech finds for the week.
Smart energy cities: The NRDC's Smarter Cities project has published a list of 22 US cities taking the lead on more sustainable energy use and production. (via GreenTech Pastures)
LED Facebook notification: OK, this is only marginally green, but Instructables has a project up for a DIY Facebook notification device that uses LED lights.