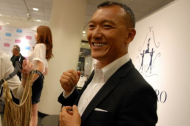 Watch All on the Line with Joe Zee, Fridays at 9:30pm.
From NBC San Diego:
A week before the season premiere of his show "All on the Line," the dashing and always gracious Joe Zee took some time out of his busy schedule to talk to us about food, fashion… and well, more food. As creative director at Elle magazine and now host of his own show, our favorite fashion guy is always on the go, but still has time to fit in his favorite shopping spots and restaurants on both coasts. Find out how Mr. Zee spends his time outside of his kushy midtown office. And, don't think we let him go without getting just a few style tips.
You're a busy busy man – how's life these days? How do you juggle it all?
Two incredible assistants, my Blackberry, Entourage and no sleep.
Have you enjoyed the Hearst cafeteria sushi station in your new digs yet? (And, by the way, have you noticed that all the mirrors in the Hearst Tower make you look great!?)
My first lunch before we even merged with Hearst was with my friend Annebet, an editor from Seventeen magazine and we indulged at the sushi station and it was amazing. In fact, I remember tweeting my lunch experience and a fellow tweeter even wrote back suggesting I…