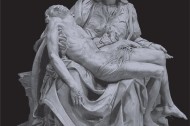 La Pieta is in Park City, sort of (replica)
I'm gonna take a break from the booze, the nightlife and the parties for a second an delve into the world of Sundance Film Festival Art. Because it's just that spectacular.
The Sundance Film Festival attracts the most random things. Beyond the psychotic gifting suites, the MySpace lounges, the Bing Bar and the Music café (which, by the way, may have nothing to do with movies but has had an INSANE roster of people playing including the Fray, Leeann Rimes, Joey+Rory, Lady Antebellum, etc.) – the randomest of the all prize goes to the "Have You Seen Michelango's La Pieta?" exhibit (and let's use that term loosely) at the Caledonian Hotel.