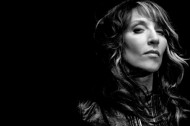 Face it. There's something intrinsically tough and sexy about a woman on a motorcycle. How we've thought about–and pictured–her over the decades may have changed a lot but one thing's remained constant: When there's a motorcycle involved, you can count on some rule-bending hotness.
Revved up for more motorcycle action? Don't miss the creators of Sons of Anarchy on THE WRITERS' ROOM, Mon., May 12 at 11PM/10c.
The '60s: French Chic
In the '60s, biker babes morphed into a self-possessed, fashionable rebel. Perhaps no one better exemplifies this than Rebecca (Marianne Faithfull) in The Girl on a Motorcycle (1968), as she escapes boredom–in the form of her new husband–by zipping on a skintight black leather bodysuit and taking off through Alsace on her trusty motorbike to visit an old lover. And in The Swinger (1966), Kelly (Ann-Margret) claims her own ambition–and sexual freedom–by acting out her fantasies… and riding her Triumph Tiger in a belted green leather jacket and little else.