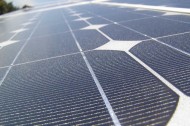 Turns out that Madison, Wisconsin's Benedictine sisters aren't the only ones greening their house of worship: churches, synagogues, mosques, and temples around the US are implementing a range of green building and energy saving features. In most cases, they're driven by religious imperatives; cost-savings likely play a role, too. The federal government's even trying to encourage this behavior: Environmental Leader noted today that congregation buildings are now eligible for ENERGY STAR status.
Solar power is one of the first things most of us consider when trying to cut our energy costs and lighten our carbon footprints. Religious congregations are no different… here are a handful that have added solar features to their houses of worship.
The First Presbyterian Church of Washingtonville, NY, has been heating the building with DIY solar systems for over 30 years!
Bridgeview, Illinois' Mosque Foundation added solar water heating in 2008, making it the first mosque in the US to adopt solar technology.