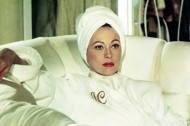 Happy Mother's Day! In honor of Good Ol' Mom, we present you with Part Two of our list of Top 10 MILFs (which translates as Mothers In Legendary Films; don't get any funny ideas). Part One covered heroic and villainous moms in film: this time around, we're doing zany, wild, perhaps misunderstood, and beautifully unique moms. Because when it comes to mothers, we've all got a different story. Vote for your favorite of these mommas in the poll below.
1. Ed, Raising Arizona
"GIVE ME THAT BABY YOU WARTHOG FROM HELL!"
Holly Hunter made the top 2 moms in this top ten list! Because well, she's awesome. Aside from Raising Arizona being one of the greatest Coen Brothers' classics, we just simply love the determination of Ed to be a mother. Who thought that baby-snatching could lead to such much trouble, so much hilarity, so much heartache, and so much brilliant film-making? Ah, the messes we create for ourselves. Classic Cohen Brothers.
2. Ada McGrath, The Piano
"There is a silence where hath been no sound / There is a silence where no sound may be / In the cold grave, under the deep deep sea."
A woman is cast onto the shores of desolate New Zealand — the loneliest place on earth. Ada McGrath (Holly Hunter) is a mute pianist, set adrift in a new world, accompanied only by her daughter. A single mother who passionately loves her child, Ada must learn to protect her daughter without the power of speech. Music as language: music as love — this is one of the most beautifully strange "mom movies" ever made.