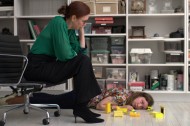 With Mother's Day on the horizon, we bring you MILFs Part 3: Ten more "Moms In Legendary Films." This time around, we're touting moms who hustle and fight for their children 'til the end. Be sure to vote for your favorite MILF in the poll below.
1. Mrs. Gump, Forrest Gump
Sally Field's Mrs. Gump sets the gold standard for parenting against the odds. She's a bold champion who cares less about shielding her special needs child from the world, and more about imparting ethics so he can always find his way. To wit: "Life is like a box of chocolate, you never know what you're gonna get." The way she sees it, there's no reason that her son, on the slower side and crippled during his youth, can't have just as rich of a life as any other child. Clearly her mothering was a success what with Forrest's college scholarship, his Medal of Honor, his two trips to the White House and his thriving shrimping business.
2. Queenie, The Curious Case of Benjamin Button
Benjamin Button's curious tale matches Forrest's in sheer scope–his extraordinary life takes him around the world and back again. He too needs a strong-willed, big-hearted mother and he gets one in nursing home worker Queenie (Taraji P. Henson) after his biological mother's death in childbirth. It's Queenie who finds the baby, brings him home, and sees through his strange physical maladies to the heart within.