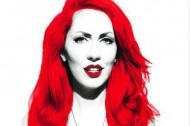 DJ Valissa Yoe
Announcement! Garo's workshop has decided that this week shall have twice as much popping and locking as previous weeks!
After downloading yesterday's mix tape, all you ladies, gents and gender benders can grab the fifth mix right here — DJ Valissa Yoe Mix. Coming to you once a week (maybe twice) as tribute to couture fashion designer Garo Sparo, all thanks to our lovely friends over at Garo's workshop.
Watch as Garo, part-time psychiatrist and full-time dream weaver, helps his clients battle their inhibitions and unleash their true selves in our all new original series UNLEASHED BY GARO, Fridays at 9p!