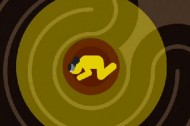 DreamStates: Mike Gordon
Animation by : Bran Dougherty-Johnson
The bassist/vocalist for the band Phish, Mike Gordon is also a multi-instrumentalist and filmmaker. In 1983, he formed the band Phish along with guitarists Trey Anastasio and Jeff Holdsworth and drummer Jon Fishman. On his own, Gordon has an inclination toward bluegrass and folk music and plays a variety of instruments including guitar, banjo, and piano. An avid filmmaker and photographer, Gordon has shot music videos for Phish and directed the 2000 feature film Outside Out. He released his debut solo album, Inside In, in 2003. Green Sparrow followed in 2008 and Moss in 2010. Mike has kept a dream journal since 1977 and had so many dreams to talk about it was hard to pick just one for our new video series DreamStates. The DreamStates series takes a look into our dreams through the eyes of creative innovators from the worlds of music and film. In Mike Gordon's episode of DreamStates, Mike discusses how sometimes when playing live – he gets to a "place" that connects him to one of his "night dreams" and he'll literally see a "vision" from a recurring dream. Intense.