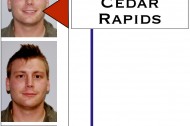 I recently googled "Miguel Arteta," director of CEDAR RAPIDS, the new comedy about insurance executives attending a conference in the big city — Cedar Rapids, Iowa. My #1 hit was the movie section of a local Arkansas paper. The featured local film reviewer, "Big Screen Peter" of Fort Smith, is right out of … a Miguel Arteta movie. Or Alexander Payne. Big Screen Pete notes that CEDAR RAPIDS is not yet playing in the area, but he gives it a 4 out of 5 on his smile-meter, below:
As a filmmaker, I shudder at the lower part of the scale — the thin and dissatisfied lips of that menacing bottom image. THIS MOVIE SUCKS! What other art form is vulnerable to this sort of onslaught? THIS OPERA SUCKS! THIS PAINTING SUCKS! I don't think so.
But indeed, I showed my students CHUCK AND BUCK (2000) a few weeks back — another Arteta work and in my view, a brilliant one — and I fear most of my trapped subjects were hitting Pete's lower rungs.