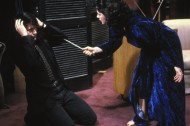 Spring may seem an unlikely time to crave a messed-up movie marathon, but the trippy films on this list are worth a screening any time of the year. Full of iconic (read: extremely bizarre) scenes and surprising performances from many now "mainstream" actors, these are movies that will get under your skin and stay there. Of course, it's hard to get too bummed out by a well-told story or a stylishly made film (then again: Dancer in the Dark), but here's a final warning: these are 10 seriously messed-up stories.
1. Grizzly Man (2005)
Like much of Werner Herzog's work, Grizzly Man has moments of poetry as well as dark humor. But Timothy Treadwell, the central figure of this documentary, suffers a fate so horrific that it's shown in the film only via Herzog himself listening to audio of the incident and advising that it be destroyed and never played for anyone ever again. The audio exists because Treadwell documented his life among the bears in Alaskan wilderness; some of the astonishing footage appears in the movie, as Herzog ruminates on the "chaos and murder" he sees in the natural world Treadwell so adores. You may want to chase this experience — or this entire list — with Herzog's Encounters at the End of the World, another nature-related doc with less grisly results.
2. Hard Candy (2005)
Before she was Juno or fulfilling her Woody Allen movie destiny, Ellen Page played a cunning teenager in Hard Candy, which manages to toy with its viewers so much that it appears to tell about five different totally messed up stories before it's over. It begins queasily enough with Patrick Wilson meeting Page in a public place and bonding over the band Goldfrapp, then gets queasier as he invites her back to her place. But Page, playing on her mini-person physicality as well as her natural ability to seem smarter than her young-looking years, is not who she appears to be. This isn't a gory horror movie, but your stomach will probably still churn with each plot twist.