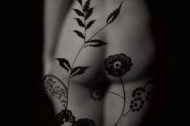 Affection: An Erotic Memoir by Krissy Kneen is a story of compulsive sexual exploration, sex addiction — and, ultimately, blissful, married monogamy. Australian author Kneen was raised by a group of protective and eccentric women who forbade any and every expression of sexuality… and we all know where that leads. We chatted to Kneen about her new book.
EM & LO: Your upbringing obviously had a huge impact on the way you approached sex and love. What do you think are the most important things for parents to teach their kids about sex and love?
Krissy Kneen: I think it is important that parents realize that the things they vehemently deny their kids are the things that their kids will want to do the most. I have seen friends refuse to let their kids have Barbie dolls and as a result the kid has grown up to collect Barbie dolls. Another friend denied their child sugar and as a result the now teenage girl is a sugar addict. I think it is important for parents to protect their kids, but a complete ban can lead to all kinds of problems.