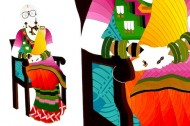 I stumbled upon the work of artist Meera Sethi at Bombay Electric in Mumbai. I love her use of colors and her modern take on Indian garments. The Toronto-based Sethi answered some questions for me while she traveled India and as I returned from my third trip to that nation.
Your Firangi Rang Birangi series of paintings really caught my eye. Can you describe them to me?
The Firangi Rang Barangi — Hindi for "colorful foreigner" — works are a series of acrylic, pencil, and ink paintings on paper that foreground themes of femininity and hybridity through dress. In them I combine Eastern and Western textiles, garments, and jewelry in order to reimagine identity across borders.
These paintings make use of bold colors and patterns, layering cultural history with personal style. While the surface of these works draws us in, the bodies that they adorn are barely revealed — an inversion that suggests the role of sartorial expression in creating a sense of self, particularly one rooted in a diasporic, transnational experience.