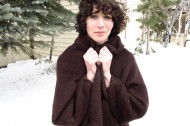 Miranda July (Photo credit: Yvan Rodic/FaceHunter).
One of the latest films to land a distribution deal is Miranda July's THE FUTURE, the filmmaker's much-anticipated follow-up to 2005's ME AND YOU AND EVERYONE WE KNOW. On Friday, it was announced that Roadside Attractions will be releasing THE FUTURE.
But despite Indiedom's worship of all things July, and the mania stirred by ME AND YOU, THE FUTURE was one of those films that scratched, as opposed to scorched, the Earth in Park City. Reviews were mixed—"bleak but charming" was an oft-heard refrain—with much fuss made over the fact that the film is narrated by a cat; a device that people we spoke to, anyway, found either brilliantly imaginative or bizarre.