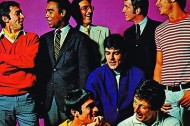 Mart Crowley's landmark play The Boys in the Band was first produced in 1968, a year before the Stonewall rebellion changed the face of modern gay movement with defiance and pride.
In its bitchy and witty portrayal of a group of friends sharing dangerous New York party games that often verge on the sadistic and self-loathing, it represents a darker moment in gay identity—one the LGBT community has long wanted to turn its back on in shame.
But enough time has passed that people are more willing to embrace the play (and the 1970 film version, directed by Wiliam Friedkin) as an important step forward in gay representation and catharsis.
In fact, Boys has engendered so much new lovin' that it's the subject of a documentary, Crayton Robey's Making The Boys, coming out this month in an attempt to put the work in its proper historical place.
As one of the talking heads in the film—along with Crowley, Edward Albee, Tony Kushner, and many more—I'm qualified to make several defenses of the original play.